Monday, 9 April, 2001, 02:21 GMT 03:21 UK
Brazilian lost tribe discovered

The tribe were found deep within the Amazon rainforest
An expedition in a remote Amazonian region of Brazil has made contact with a tribe of indigenous Indians never before exposed to western society.

The 11-member team from the Brazilian Government's Federal Indian Bureau met about 30 members of the Tsohon-djapa tribe for about an hour over the weekend.

The tribe apparently already knew about the existence of white people. But the Indians live in the Javari region, an area home to several other tribes with little exposure to the developed world.

The first signs of their existence were uncovered last year when an aerial survey of the region revealed a previously undetected village made of 16 long houses.

The team of anthropologists and Indians embarked on their expedition to locate the tribe late last month.

They travelled by boat from Tabatinga, about 2,500 miles northwest of Rio de Janeiro, before trekking through the forest by foot.

Exploitation

When the expedition set off, leader Sydney Possuelo said his aim was to get an idea of the area the Indians inhabit, and then leave them alone.

They apparently only made contact with the tribe to investigate rumours that they were being ruled and exploited by the neighbouring Canamaris tribe.

"They had already had contact with our world through traded objects, but continued to live completely isolated," said Mr Possuelo.

"We only made contact because the Indians were being exploited by the Canamaris and we are trying to see what we can do about it," he added.

Isolation

Amazon tribes live mainly from hunting and fishing. They also cut down and burn small areas of forest to grow crops.


Tribal cultures remain strong in parts of Brazil
Brazil is home to about 300,000 Indians.

The Vale do Javari was declared an Indian reservation in 1996.

The bureau estimates that there are about 1,000 indigenous people living there in 53 tribal cultures, in relative isolation from Western society.

Its brief is to protect Brazil's indigenous peoples from gold diggers, loggers and religious sects.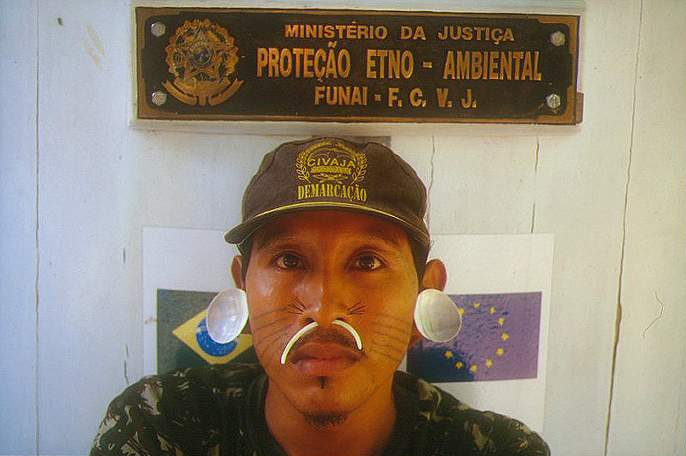 BBC News | AMERICAS | Brazilian lost tribe discovered