ANTI-AMERICAN ASSHAT MOWS DOWN CROSSES AT CAMP CASEY
by patrioticliberal [Subscribe]
Mon Aug 15th, 2005 at 22:38:11 CDT

Late Monday night, a man, described as being in his late forties or early fifties, decided to run over the over crosses at Camp Casey that serve as a memorial to the soldiers who have died in the war in Iraq.

According to TexasLady at DemocraticUnderground as well as Ernest Hancock from Air America affilliate KXXT, the man was soon caught and arrested by the Crawford police. Hancock stated on Air America Radio's "Mike Malloy" program, "He had some crosses in the undercarriage of his pickup truck, and he's been arrested". Hear Hancock's audio blog about this incident and stay tuned for other audio blogs from affilliate KXXT. Another audio blog message as of 10:02 p.m.. Dylan Garcia reported at DemocraticUnderground that 500 crosses had been damaged and 100 were beyond repair.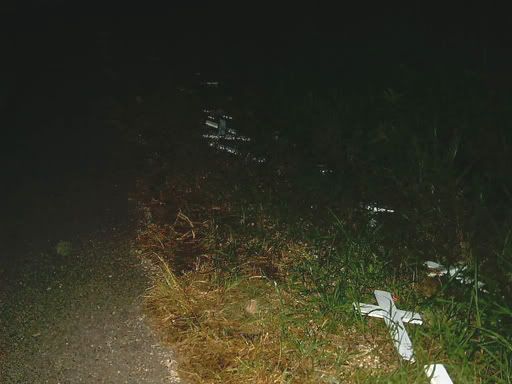 Daily Kos: ANTI-AMERICAN ASSHAT MOWS DOWN CROSSES AT CAMP CASEY